When you hear the phrase, "Shop local," you might think about spending money at locally-owned establishments vs. chain retailers. While it's a noble feat to support businesses owned by those in your community, sometimes the allure of deals offered at retail giants like Amazon and Costco are too significant to ignore. But did you know? Supporting local businesses does not have to mean swiping your credit card. These free ways to support a small business can have a bigger impact than you may realize.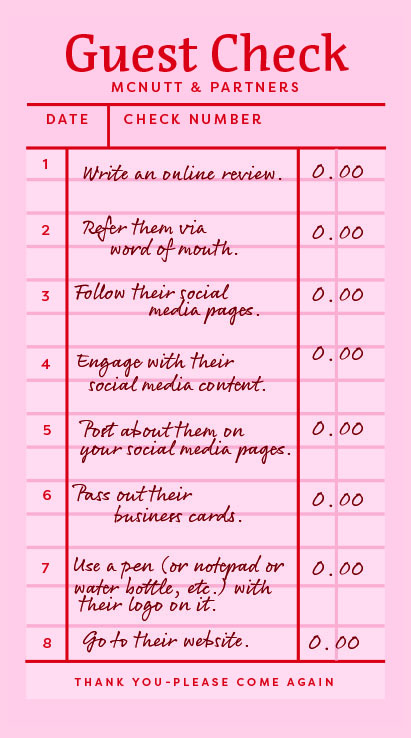 Write an online review.
Taking a minute or two to write a Google, Facebook or Yelp review for a business can do wonders to help said business. Not only do positive reviews attract other clients and customers, but they can help to boost a brand's SEO so that it is more likely the brand's digital assets will be prioritized in search.
Oh yeah, and writing an online review is completely free!
Refer them via word of mouth.
Chatting with coworkers about where to get their hair done? Talking to your dad about the best place to get your oil changed? See a post in a community Facebook group asking for restaurant recommendations? Support your people! Simple word of mouth responses in these situations in support of locally-owned businesses you like can help them out tremendously.
Follow their social media pages.
When it comes to free ways to support a small business, this one is also super easy. Just give their social media pages a like or follow! One click can make all the difference.
Engage with their social media content.
We know you're already browsing social media, so why not support local businesses while you're at it? Like their posts. Share their photos to your feed. Leave a comment on their updates. Engagement on branded social media pages helps content from these pages get prioritized in a social platform's algorithm.
Post about them on your social media pages.
Take it a step further and make a post about a local business you frequent often or that you had a great experience with! Again, it's quick, easy and free.
Pass out their business cards.
Pick up a business card from a local business' front counter, or ask them for one (or a few!) Then, share them with others.
Use a pen (or notepad or water bottle, etc.) with their logo on it.
Branded materials are like walking advertisements for businesses. If you've got something with a logo from a small business on it, use it as a way to spread the word about that brand!
Go to their website.
Did you know a simple visit to a business' website is a drop in the bucket for its search engine ranking? It's true! So, by just going to a small business' website, you can help them out.
In a "nutt" shell
As you can see, these actions that require little effort with no money spend can lead to potentially significant payoffs for your favorite local businesses. Start supporting them today!
McNutt & Partners is a full-service advertising and digital marketing agency. Contact us today for your marketing needs! Call 334-521-1010, or visit our contact page.