Instagram debuted them in 2016, and we talked about them when they were gaining traction back in early 2019. But by now, Instagram Stories are a household name. Phrases like, "Did you see her story yesterday," and "I tagged you in my story," may have been foreign a decade ago, but such is no longer the case. Though Stories disappear 24 hours after being posted, you can preserve Stories posts in Instagram's Stories Highlights. Here, we're offering you some guidance when it comes to choosing your Instagram Highlight categories.
Why Instagram Highlight categories can be beneficial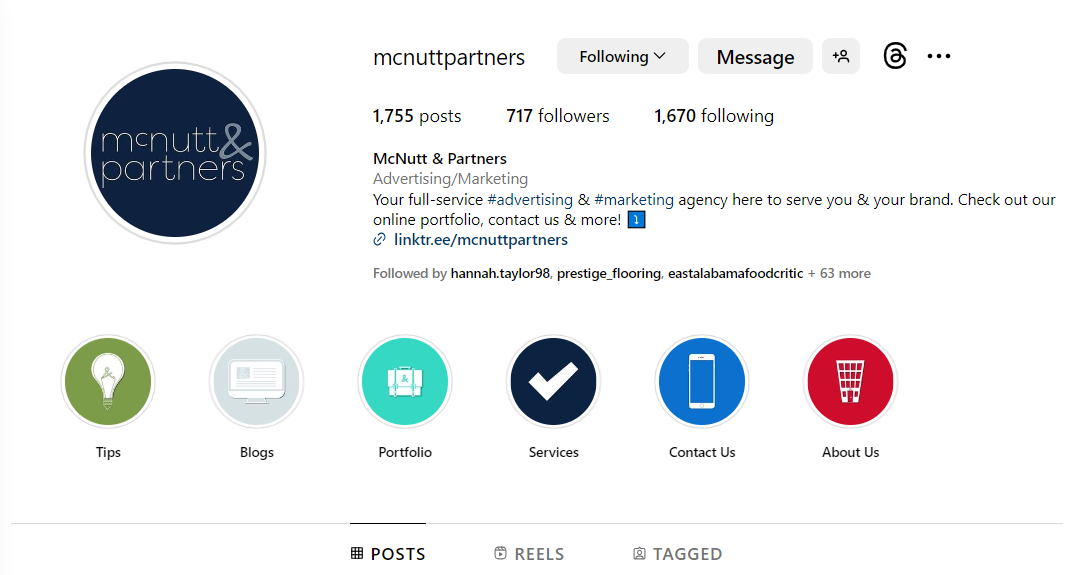 Instagram Highlights appear in the form of little circles in a horizontal row across the top of an Instagram profile's posted content. Below each circle is a text label for that particular Highlight.
When Instagram users post content to their Stories, they have the ability to also send that content to one (or more) of these Highlights. Unlike the content posted to the main Stories space, the content sent to Stories Highlights does not disappear after 24 hours and remains there indefinitely (until a user removes it).
Instagram profiles can have unlimited Highlight categories. The usefulness of these for business pages is they are a good way to group Stories content and have it easily visible and referenceable for page followers beyond the 24-hour Stories expiration window.
McNutt & Partners' guide to choosing your Instagram Highlight categories
So, how do you go about choosing your Instagram Highlight categories? Here are a few tips.
Think about what type of content you share to your Stories.
Think about what you are already sharing to your Stories. Is there a natural way that the content types can be grouped? For example, do you share a staff spotlight every Wednesday? Then those posts could become their own Highlight category.
Of that content, decide what is most important or useful to your page followers.
Some content shared to Stories should by nature disappear within 24 hours. For example, if your story is promoting an event that is happening the next day, then there would be no need to keep that preserved in a Highlight category beyond the time an event has taken place.
However, content that is "evergreen," as we like to call it, is that content that will perpetually by useful and relevant to your page followers. This is the content that you want to store in a Highlight.
Group your evergreen content into categories.
These categories are essentially what will become your Highlights. A few standard Highlight categories we have used for clients include:
Local
About Us/Staff
Resources/Tips
Products/Services
Blogs
Contact
There may be some industry-specific highlight categories you can use.
The above "standard" suggestions are by no means the only ones you should limit yourself to when choosing your Instagram Highlight categories. There may be some industry-specific or specific-to-your-business categories you want to use.
For example, if you are a real estate agent, "My Listings" may be a Highlight category you opt for to showcase all of your active listings at any given time. Keep in mind, with a Highlight like this, you may need to go in and "clean it up" every now and then as content becomes irrelevant to the category (in the case of this example, when a listing is no longer active).
There are other ways to break down your content.
Besides considering the nature of the content itself, there are other ways you may choose to divide your Highlight categories. For example, if you have multiple locations, you might do a Highlight per location.
If you have only a handful of products/services, then you might do a Highlight per product or service.
Remember, not everything has to go in a highlight.
Again, not everything may need to be "preserved" in a highlight and that's OK! Instagram Stories were originally coined to be fleeting in nature, after all.
In a "nutt" shell
We recommend using Instagram's Stories Highlights feature as a means of making your Stories content usable to your brand followers for a longer period of time.
If you need help choosing your Instagram Highlight Categories beyond what you got out of this blog, we're here to help!
McNutt & Partners is a full-service advertising and digital marketing agency. Contact us today for your marketing needs! Call 334-521-1010, or visit our contact page.