Running a business, you may feel like your to-do list is never ending. Maintaining your storefront, product supply, employee well-being, and customer satisfaction is more than a full-time job. Did you know? Your social media pages require maintenance as well. Check out this comprehensive social media maintenance checklist that we use to help our clients' social pages stay updated, engaging and relevant.
McNutt & Partners' Social Media Maintenance Checklist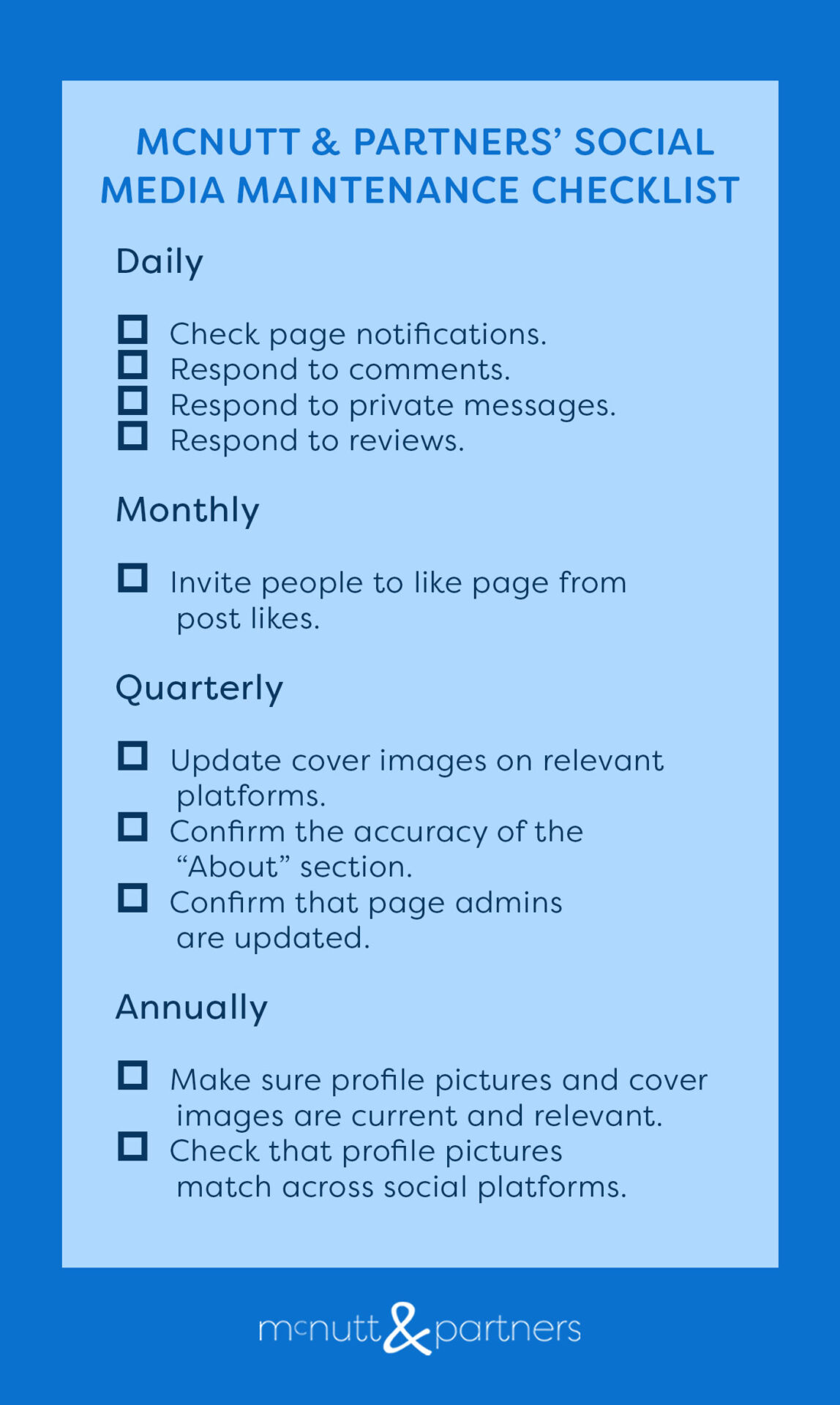 Profile and cover photos
The profile photos on your branded social pages serve to promote brand recognition to your followers, so it's beneficial to make sure they're representing you accurately. We check to make sure a brand's profile and cover images are appropriate and relevant. We also recommend having them match across social platforms (i.e., use the same profile picture on Facebook, Instagram, LinkedIn, etc.)
As part of our regular social media maintenance, we also make it a point to update our clients' cover images on relevant platforms once per quarter.
Notifications and messages
Social media is not a set-it-and-forget-it situation. One of the most important items on our social media maintenance checklist is addressing notifications on a daily basis (which could mean multiple times a day for busier pages).
Notifications will alert you to page likes, post comments, post shares and more. We also check our clients' private message inboxes on a regular basis and in an effort to respond to inquiries in a timely manner.
"About" info
Your social media pages act as a resource for information about your business. In fact, many people use social media to look up a business' address, hours, and phone number like they did in the days of the Yellow Pages.
It's good practice to make sure the "about" info listed on your business' social pages is always accurate!
Reviews
Responding to reviews is another item on our social media maintenance checklist. Good, bad and everything in between—it deserves a response. Read more on our blog, "6 Tips for Responding to Online Reviews of Your Business."
Page access
Do you know off-hand who has access to your social media pages? If your answer is "no," this is definitely something to check up on. It's possible that a former employee still has access to your page, for example. When it comes to page maintenance, we ensure that the individuals who have access to our client pages are the ones who should.
Page invites
Are there people interacting with your content, but they don't follow your page? Invite them to do so! Being proactive about garnering page follows is a checklist item that serves to help grow your engagement.
Summary
Use this social media maintenance checklist to ensure that your business pages are doing the most they can for your brand!
McNutt & Partners is a full-service advertising and digital marketing agency. Contact us today for your marketing needs! Call 334-521-1010, or visit our contact page