The word "anatomy" may conjure intimidating memories of sitting in high school science class. But don't be scared. The anatomy of a marketing social post is pretty simple—(and involves a lot fewer parts than the human body).
Speaking of intimidating, using social media for marketing can be just that. Scores of ad options, an infinite audience, the ability to post 'round the clock. But these same qualities that can make social media marketing daunting are also the qualities that make it such a viable advertising option for businesses.
Never posted to your business' social page before? Posted, but not sure if you're doing it right? We've broken down a marketing social post into some of its most base parts to help get you started.
A quick reminder
A social post is copy, an image/video, or copy paired with an image/video (the latter being the best option, in our opinion) posted to your business page's public timeline or feed. Your page's followers (and beyond, depending on the format of the post) can view, react to, comment on and share this content.
Here, we are specifically talking about social posts used for marketing purposes. This is not to say that every post on your business' page must be marketing-related. In fact, we suggest having a healthy mix of marketing posts with posts that showcase the culture of your brand.
The anatomy of a marketing social post
Any effective marketing messaging has a few key parts, and the anatomy of a marketing social post is no different.
Attention grabber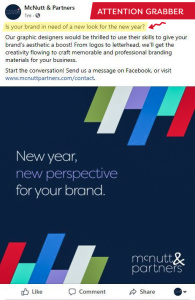 Do we have your attention? Every marketing social post should start out with an attention-grabbing statement or question. Reel them in with something that makes them stop their scroll to read your post.
Quality offering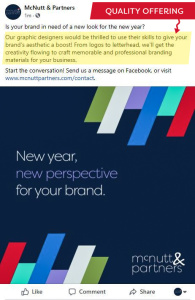 Now that you have their attention, let them know what you're bringing to the table. Describe your offering, whether it's a specific product/service, special discount, upcoming event, etc.
Call to action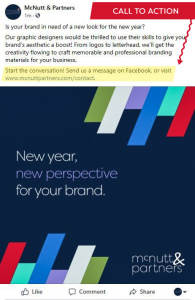 They've got the message. They want what you've got. Now tell them how to get it! The anatomy of a marketing social post would not be complete without the critical call to action. Direct people to your website, urge them to send you a private message—whatever makes sense for your brand.
Other tips
Keep copy brief. Shorter posts are easier to consume.
Always include an image or video. Consumers are visual!
Add your own flair. People respond better to posts with personality. Don't hesitate to insert yours into your content.
Summary
We told you it was simple! Follow this outline for the anatomy of a marketing social post to set up a strong foundation for your brand's social media content.
As always, if you don't have the time or means to do it yourself, the McNutt & Partners team would be happy to help!
McNutt & Partners is a full-service advertising and digital marketing agency. Contact us today for your marketing needs! Call 334-521-1010, or visit our contact page.