Organization is critical to any business's smooth operation, but so is making sure that the organizational tools you employ are optimal for your business's particular needs. With more than 30 clients' social media accounts and more than 75 websites to manage, our team at McNutt & Partners had to find an efficient solution for keeping all of our tasks in a row, and the one we landed on has not made us look back since. Using the app Trello for project management, we've been able to efficiently outline our in-house responsibilities per client at any given time while tracking our progress and sticking to a prescribed output schedule. In other words, we would be lost without Trello!
What is Trello?
Trello is a task management app that visually organizes what you are working on and who is working on it. Trello reflects the Kanban system, a scheduling system developed by an industrial engineer at Toyota to improve manufacturing efficiency. Imagine a white board filled with post-it notes in rows according to category, and each note represents a task to be performed within that category. That's essentially how Trello works.
Using Trello, one can assign due dates to tasks, delegate tasks to certain individuals or teams, create checklists, set reminders and even integrate the system into one's email. Multiple people can have access to a Trello board at one time, so that an entire group can be in the know, and users can contribute their individual efforts. Trello isn't only useful for business, but it could be used to manage personal errands, family chores or even vacation itineraries. The possibilities are extensive.
How is Trello organized?
Boards>lists>cards>card contents
Keep that hierarchy in mind. Like we mentioned, a Trello board (the name for a set of tasks, i.e. "Client Blog Schedule") is akin to a white board with individual post-it notes representing the tasks, except that it is in digital form. A board consists of lists, which are laid out horizontally on the page so that you can easily view what is going on with your project. Within a list are cards, which represent individual projects or tasks that fall into the category of that list. Cards are movable within a list and from list to list with a simple click, drag and drop.
When you click on a card, it opens you up to a selection of functions. You can attach pictures and documents to the card, create multiple checklists, choose colored labels, add a description, assign a due date and time, designate a person to work on the task and more. You can also create Trello cards via email, which can be helpful when tasks pile up in your inbox and you need to organize them quickly.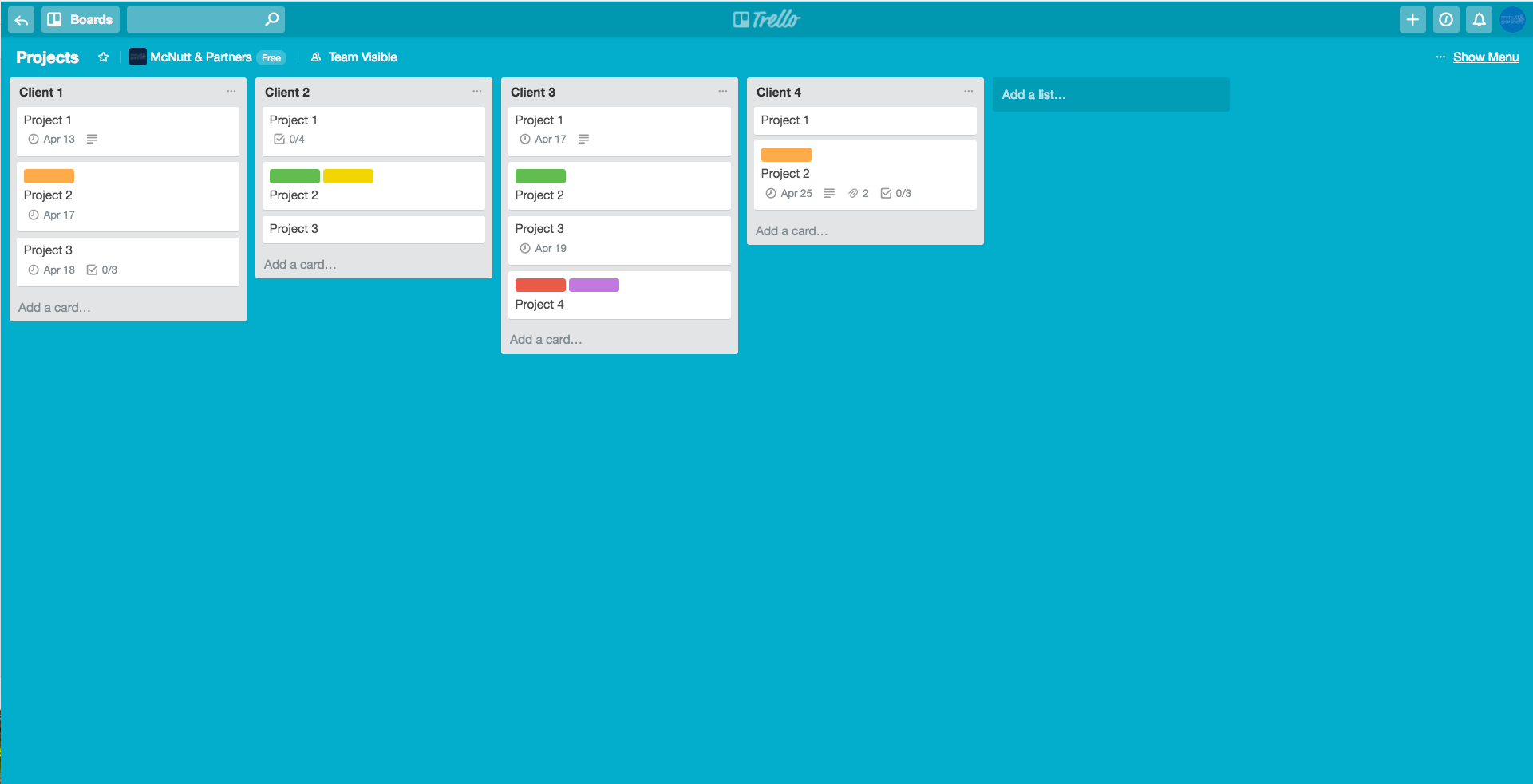 How does McNutt & Partners use Trello?
The most use that we get out of Trello is regarding our social media and blogging schedule. With daily posts going out for 30-plus clients, keeping our schedule in an easy-to-use and easy-to-maintain format is absolutely necessary for the sanity of everyone involved—and not to mention, to keep our clients happy.
Following the hierarchy mentioned above (boards>lists>cards>card contents), here's how our social media and blog board is organized:
>Blog and Social>(client name)>(title of blog or social post)>card contents. Within our cards, we include checklists of tasks associated with the social post or blog, attachments of graphics or Word documents needed to complete the post or blog and a due date for the post or blog.
Our Blog and Social board is not our only board, just the one that we use most frequently. We also maintain boards for website work, direct mail, overall client progress and tasks, etc.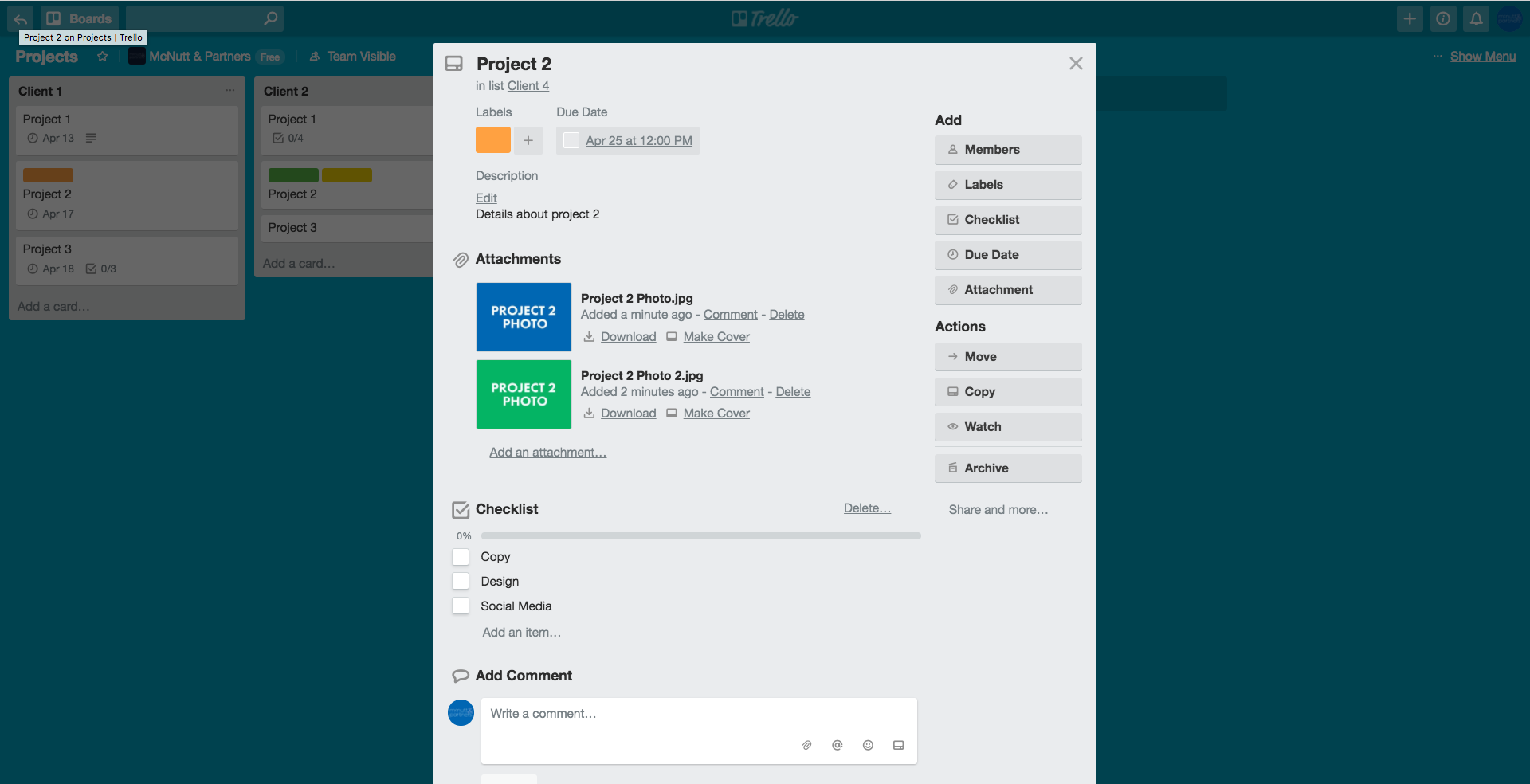 How much does Trello cost?
Another great thing about Trello—it's free! The free version is the one we use and includes unlimited boards, lists, cards, members, checklists and attachments. It allows you to attach files up to 10MB onto a card from your computer, or link from Google Drive, Dropbox, Box or OneDrive. The free version also offers one Power-Up, a function of Trello that allows you to integrate other applications your team may be using into your boards.
There are two additional levels of Trello pricing, Business Class, which costs $9.99 per user per month when paid annually, and Enterprise, which costs $20.83 per user per month when paid annually. With the higher tiers, you essentially get unlimited Power-Ups, the ability to attach larger files and enhanced security, among other offerings.
Why do we like Trello for project management?
Trello is an extremely visual application that helps you absorb both the big picture and individual tasks with ease. Its user interface is simple, yet provides enough detail to cover all of your bases so that nothing should fall between the cracks when tracking progress. With the ability to add multiple people
to a board at any given time, Trello is a great tool for collaboration and accountability among team members.
If you are looking for a way to organize your life, whether for business or personal applications, Trello for project management is one that won't disappoint.
The McNutt & Partners team is a full-service advertising and digital marketing agency. Contact us today for your marketing needs! Call 334-521-1010, or visit our contact page.