Ranking highly in search engine results is a goal that the majority of businesses cultivating a digital presence want to achieve. As with many things in life, there is no one catch-all solution for making that happen. SEO, or, search engine optimization, is a complex puzzle with a plethora of moving parts. Move one of those parts the right way one day and watch your business' website climb in the rankings. Move another part the wrong way the next day and watch your site lose out top spots to higher-ranked competitors. While there is no magic formula to achieving the SEO results you want, there are certain moves that you should make in order to increase your changes of earning a high search ranking. One of those, Google My Business, is critical to your SEO strategy.
What is Google My Business?
Picture what a search result page looks like after you Google something—particularly a person, place or business. If you see a box appear on the right side of your screen with photos, a website, map links, address, hours, reviews and more—that's the work of Google My Business. Here's an example: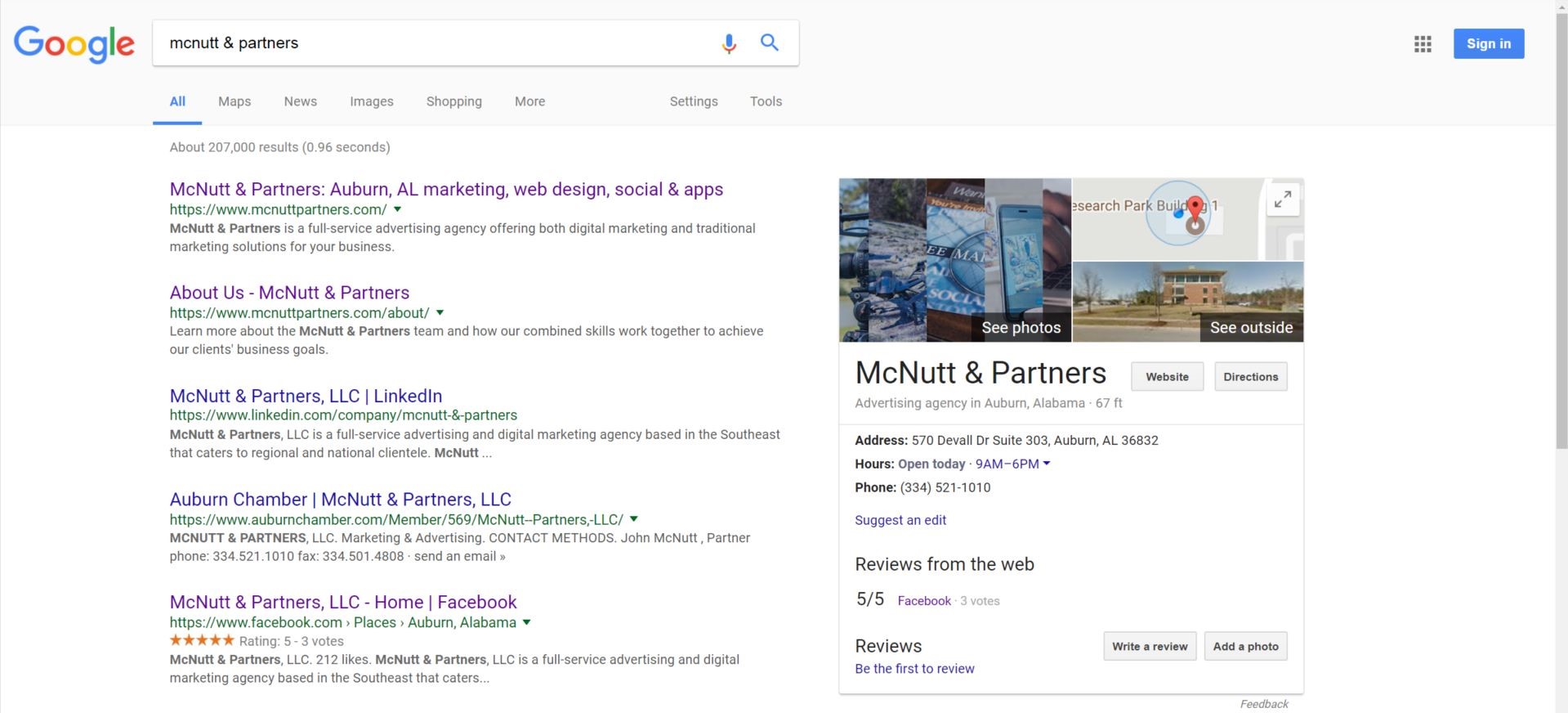 Google My Business is Google's tool that allows you to manage how your business will appear within the search engine. In addition, GMB provides metrics about user visibility and engagement with your business that can be helpful in gauging where you need to improve in terms of SEO strategy.
Google My Business is easy to use. All you have to do is make an account, claim your business and fill in the details. Then, you'll receive a hard copy postcard in the mail from Google with a verification code that will be used to prove that you are the owner of the business. From there, all you have to do is fill in further details, check on your listing regularly and take advantage of the insights that GMB provides.
Why is Google My Business so important?
Google being the king of search engines, it bodes well for you to use Google's own, already-integrated tools like Google My Business. For one, optimizing GMB will simply improve the aesthetics of the results that appear when someone searches your business name. When you have optimized your GMB listing, all of your information will display in a user-friendly format that will allow searchers to easily find the information they are looking for. This also improves your brand's credibility in the eyes of people searching your business.
In addition, as we've mentioned, Google My Business is critical to your SEO strategy due to the fact that Google uses the information you put into GMB in its algorithm to determine your search engine ranking. Here are three of the most important SEO-affecting factors that GMB takes into account:
Distance. One way that Google My Business is critical to your SEO strategy is that it lets Google know where you are located, and therefore, when you should rank higher in a search. For example, if your business is located in Atlanta, it is unlikely then that you would appear in a search for "pediatricians in New Orleans." When a person searches for something, Google will use everything it knows about that searcher to present the most location-relevant results.
Relevance. Speaking of relevance, having a well-optimized GMB listing can also show Google how pertinent your business is to a person's search terms. Google My Business allows you to be clear about what it is exactly that your business does and then matches that with the search intent of the Google user.
Prominence. This is where the activity level surrounding your business listing comes into play. With GMB as a platform, you should make it a point to keep your listing updated with new photos, reviews, links, etc. Google likes to see that a profile is active and not just sitting stagnant, the former of which will likely rank higher in search results.
Google My Business is critical to your SEO strategy for the roles it plays in determining search rankings and improving user experience in relation to your brand. Now that you know why it's important, how do you go about making the most of Google My Business? Check back next week, when we'll discuss exactly how you can optimize your GMB listing.
Don't have time to spend on your Google My Business listing? Let the McNutt & Partners team do it for you! Call us today at 334-521-1010 or visit our contact page.