Setting up a new Facebook page for your brand comes with its share of steps. One of those includes Facebook page types. Selecting the appropriate Facebook page type for your business ensures that not only are you accurately represented on the platform's interface, but also it can benefit you in terms of SEO and how easily users can find you on social media.
The six Facebook page types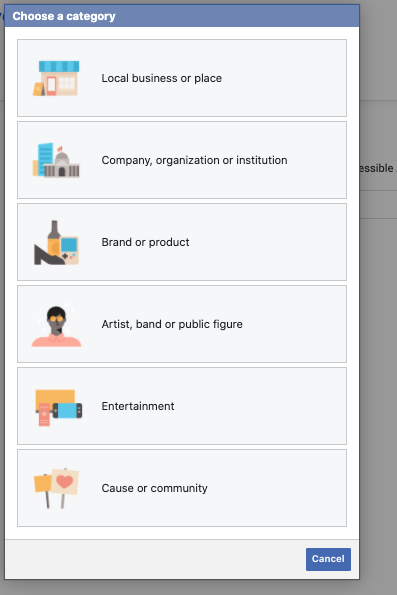 Disclaimer: We're writing this blog at the beginning of 2022 (the first blog of 2022, in fact!). Facebook switches things up on us all the time, but right now there are six Facebook page types for you to choose from when setting up your page.
Please note—these are the six broad Facebook page types. After you select one of the six, you will be prompted to choose from a corresponding list of more specific categories to assign to your page. Currently, each page can select a maximum of three specific categories under the page type.
Local Business or Place
Does your business have a physical location that you want customers to come to at any time during your open hours? This category is for you. Retail stores, food service, hotels, museums, real estate, schools—all fall into the "Local Business or Place" Facebook page type.
Company, Organization or Institution
If you have a physical location, but you don't need to necessarily bring foot traffic to your place of business, consider the Company, Organization or Institution page type. If you have a franchise with multiple locations, and your Facebook page is representing the franchise as a whole, this is also a good type to select. In addition, Company, Organization or Institution applies service-based businesses where you go to the client (think consulting, computer support, distribution). Other business types under this umbrella include non-profits, law offices, churches, media/news organizations and travel agenices.
Have an online business? Select this type if you sell online only though your own website.
Brand or Product
If you sell products online but through more than one website (via more than one retailer), your page should carry the Brand or Product title. Well-known brand names would choose this category (think Nike, CoverGirl, Pepsi). The product categories under this page type range from appliances to electronics to health/beauty and beyond.
Artist, Band or Public Figure
This one's pretty self-explanatory (but you may get it confused with "Entertainment,"). If you're an artist or band—yup—this is you. The "Public Figure" portion of the designation is where it may get unclear. Public figure applies to actors, athletes, authors, business personalities, chefs, coaches, doctors, journalists, lawyers, politicians—the list goes on.
Entertainment
If Artist, Band or Public Figure applies to an individual person, then this Facebook page type applies to the physical works, entities or venues surrounding those individuals. For example, albums, books, movies, radio/TV stations, record labels and sports venues fall into this Facebook page type.
Cause or Community
Upon reading this last one, your brain might automatically think "non-profit." However, "Non-Profit Organization" is actually a specific category under the umbrella of Company, Organization or Institution. You might also think a church or government page should select Cause or Community; however, "Community/Government" and "Church/Religious Organization" both fall under "Local Business or Place."
Confused? The Cause or Community page type is the only one of the six that does not have further categories to select from. Thus, it's presented as somewhat of a catch-all page type. It's not entirely clear what this page was intended for without it having sub categories to select from. Our best guess is perhaps it would be good for a group raising money for a specific cause (through a GoFundMe for instance) or an informal neighborhood page. However, there are also Facebook Groups for this purpose.
When will I be prompted to select a page type?
When creating a new page, the page type should be the first thing you are prompted to select (see the screenshot above for what it looks like). This menu should pop up before you enter in any other information about your page.
Tip: if after reading this you're still not sure which page type is right for you, try selecting one and seeing which subsequent categories are available. If nothing in the more specific categories under the type you selected seems to apply to you, then you may need to go back and select one of the other five page types.
If you think later that you may have selected the "wrong" page type, don't worry—you can go back and change it.
Summary
Selecting the most appropriate one among the Facebook page types is important to ensure that the most relevant information is associated with your public-facing social media presence. If you need help selecting a page type for your brand's Facebook page, we're here!
McNutt & Partners is a full-service advertising and digital marketing agency. Contact us today for your marketing needs! Call 334-521-1010, or visit our contact page.