In the wide world of the internet, claiming ownership your online assets is critical in order for your business to appear reputable and legitimate to web users. It also maintains that your online assets are just that—yours—and that they cannot be claimed or misrepresented by anyone else. Facebook offers you a way to "claim" your pages, and it's called verification. Verifying your Facebook business page is not a requirement, but it is in your brand's best interest for several reasons.
The benefits of verifying your Facebook business page
Verifying your Facebook business page can help your brand in a variety of ways, including search engine optimization. When you go to verify your page, even Facebook tells you that doing so will help your page rank higher in search results.
In addition to SEO, verifying your page adds that level of legitimacy that we previously mentioned. It shows your followers that yours is "the" official page representing your brand. That way, if for some reason a duplicate or similar page is created, Facebook users can see that yours is the real deal—not the imitator's.
Giving this officiality to your brand's Facebook page is especially important for consumers today, who are more cognizant than ever of where their content is coming from. They want to know that they are following legitimate sources when it comes to their online content.
Determining whether a Facebook page is verified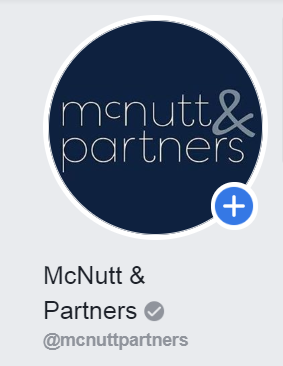 To see whether a page is verified, look for a check mark next to the name below the profile picture. Facebook calls these "badges."
A gray badge indicates that it is an authentic page for a business or organization with a confirmed location. There are also blue badges, which are used to indicate verification for public figures (including celebrities), media companies and larger brands. For example, Bed Bath & Beyond's brand page has a blue badge, while a specific Bed Bath & Beyond store's page would have a gray badge if verified.
At McNutt & Partners, we're considered a small business with a confirmed location, so we get the gray badge.
How to verify your business page
Verifying your Facebook business page may sound daunting, but it's actually pretty easy (and a gray badge is much easier to obtain than a blue one). Here's how to do it:
Go to your Facebook business page.
Select "Settings" in the top right corner of your page.
Choose "Page Verification" from the options (It's second from the top on ours.)
Here, it will prompt you to request a code. You do this by entering your business phone number and then clicking "Call Me Now."
Facebook will then send an automated call to the number you entered. Answer your business phone and write down the code provided.
Enter the code in the space indicated on your screen.
Ta-da! Your page should now be verified.
Facebook also gives you another option if you do not want to use the phone call/code method—the option to "Verify this page with documents instead." This requires you to upload documents that prove that you legally own the business. Accepted documents include:
Business utility bill
Business license
Business tax file
Certificate of formation
Articles of incorporation
While Facebook assures that it will keep this information private, the phone call option does seem to be the easier of the two. The document option requires a manual review, which could take longer (anywhere from 48 hours to 45 days, according to AdEspresso). In our experience using the phone call/code method, we have received immediate verification for the pages that we help manage.
Speaking of help, if you need it, we're here. We work to make sure that all of our clients pages are verified and much more in an effort to help them secure their digital assets. Give us a call at 334-521-1010, or visit our contact page.