Welcome to Christmas week! As we wrap, bake, travel and repeat, we thought we'd have a little fun along the way with a holiday poll. Eggnog vs. hot chocolate? Are Santa presents still a thing? Should Christmas inflatables be banned for life? The team answered these questions and more, and we're breaking down the results here! Get some insight into McNutt & Partners' holiday opinions—and then take the poll for yourself!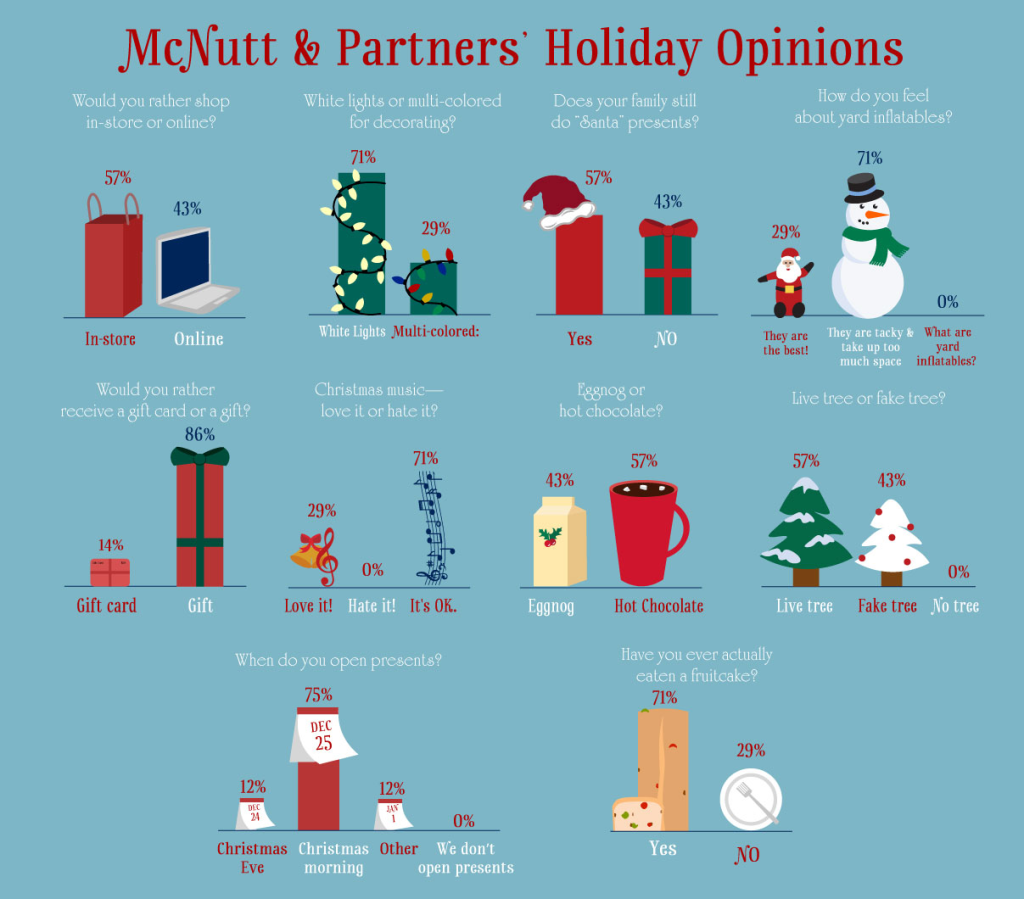 Would you rather shop in-store or online?
In-store: 57%
Online: 43%
White lights or multi-colored for decorating?
White lights: 71%
Multi-colored: 29%
Does your family still do "Santa" presents?
Yes: 57%
No: 43%
How do you feel about yard inflatables?
They are the best! 29%
They are tacky and take up too much space. 71%
What are yard inflatables? 0%
Would you rather receive a gift card or a gift?
Gift card: 14%
Gift: 86%
Christmas music—love it or hate it?
Love it! 29%
Hate it. 0%
It's OK. 71%
Eggnog or hot chocolate?
Eggnog: 43%
Hot chocolate: 57%
Live tree or fake tree?
Live tree: 57%
Fake tree: 43%
No tree: 0%
When do you open presents?
Christmas Eve: 12%
Christmas morning: 75%
Other: 12%
We don't open presents. 0%
Have you ever actually eaten a fruitcake?
Yes: 71%
No: 29%
Note: This isn't really an opinion, but just out of sheer curiosity.
Take the poll!
Now that you know McNutt & Partners' holiday opinions, it's time for you to take the poll yourself!
Oops! We could not locate your form.
Merry Christmas
Embracing the holiday season means recognizing and appreciating the positives in your life. We are grateful to have a hard-working, talented team that has a true passion for helping our supportive clients succeed. Though we may not all agree on Christmas music and when to open presents, it is our assorted personalities and areas of expertise that help us all do great things!
Merry Christmas from the McNutt & Partners team.
McNutt & Partners is a full-service advertising and digital marketing agency. Contact us today for your marketing needs! Call 334-521-1010, or visit our contact page.