Instagram stories are known for their fleeting nature. There is a function, however, that allows users to preserve and showcase their stories content. The stories highlights feature on Instagram gives stories content a place to live beyond its 24-hour posting window. Categorizing your Instagram stories highlights is a way to organize this content to make it more consumable for those interacting with your page.
A closer look at stories highlights
Instagram first introduced its stories highlights and stories archive features in December 2017. Private to the profile owner, the stories archive is a space that automatically saves stories content to be retrievable at any point in time.
Stories highlights does the same; however, the difference is, highlights are not meant to be private. In fact, they are on display as a public feature of an Instagram user's profile.  They appear below the bio of an Instagram profile but above the feed. Each "circle" is a different highlights category, and a user can make as many highlights categories as they want (more on that in a minute).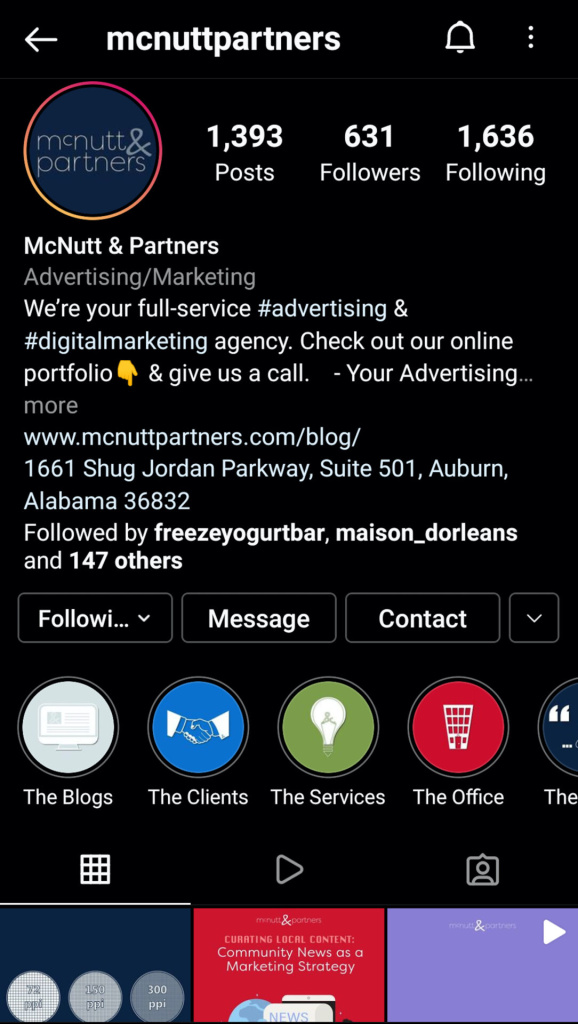 On the example above from our profile, the stories highlights are the circles labeled "The Blogs," "The Clients," "The Services," "The Office," and so on.
Creating a highlights category
To create a highlights category, make sure you are logged into your Instagram account and are looking at your own profile, and click the circle with the plus sign labeled "New." From there, you'll open up your private stories archive, and you'll be able to select the content you want to assign to the new category. You'll be prompted to assign a name to the category and select a cover photo for the category, which is the image that will appear in the circle on your profile (until you remove it or assign another cover image). Note that a category name is limited to a maximum of 15 characters.
Once a highlights category is created, you'll be able to add new stories content to it in real time as you actively post (rather than having to select from the archive).
Categorizing your Instagram stories highlights for marketing
So, about these categories. How many categories should you make? And what should they be titled? The answers will be different for every business; however, thinking about it from a marketing perspective can help.
Categorizing your Instagram stories highlights is a means for you to guide page followers to the information you want them to know about your brand. Think about each category as its own section of marketing content. For a brand, helpful stories highlights categories could be:
Products/services
Our staff/employee spotlights
Company culture/about us/mission statement
Around the office
Portfolio/our work
Testimonials
Blogs (if you have one)
Of course, these are very general categories to use as a starting point. Categories can and should vary depending on your business and industry. For example, if you're a restaurant, your categories might include things like "Daily Specials," "From the Bar," etc.
A few quick tips
We've thrown a lot of information at you, so we'll wrap it up with a few quick tips for managing your stories highlights.
Keep your categories broad and versatile. Though you can make as many highlights categories as you want, too many can be overwhelming for people interacting with your page.
Create an aesthetic with your highlight graphics. Treat your highlights cover graphics as a work of art! Create branded covers that coincide with the rest of your brand aesthetic.
Add to highlights consistently. Don't forget—after you create your categories, add content to them on a regular basis! After all, sharing fresh, relevant content is the cornerstone of social media marketing. Note: You can only add up to 100 photos or videos to a stories highlights category.
Summary
Categorizing your Instagram stories highlights is a way to organize your brand's content to make it more palatable for people engaging with your page. It also provides yet another avenue for potential customers to learn about your business in hopes of prompting them to establish a connection with you.
As always, it's our pleasure to help if you'd rather let us handle your stories highlights!
McNutt & Partners is a full-service advertising and digital marketing agency. Contact us today for your marketing needs! Call 334-521-1010, or visit our contact page.