As we seemingly live and breathe online, it's no surprise that the world of all-things-digital is thriving. In fact, our time spent online increased by 20 percent in the past year, according to the study we are about to delve further into. In the marketing space, digital ad revenues recently reached record-breaking highs—soaring past $100 billion annually for the first time ever in FY 2018 according to the Interactive Advertising Bureau. While the numbers show extreme promise for the digital advertising realm, some experts point out that threats to that success do exist. Let's look at a few other statistics from the IAB's report.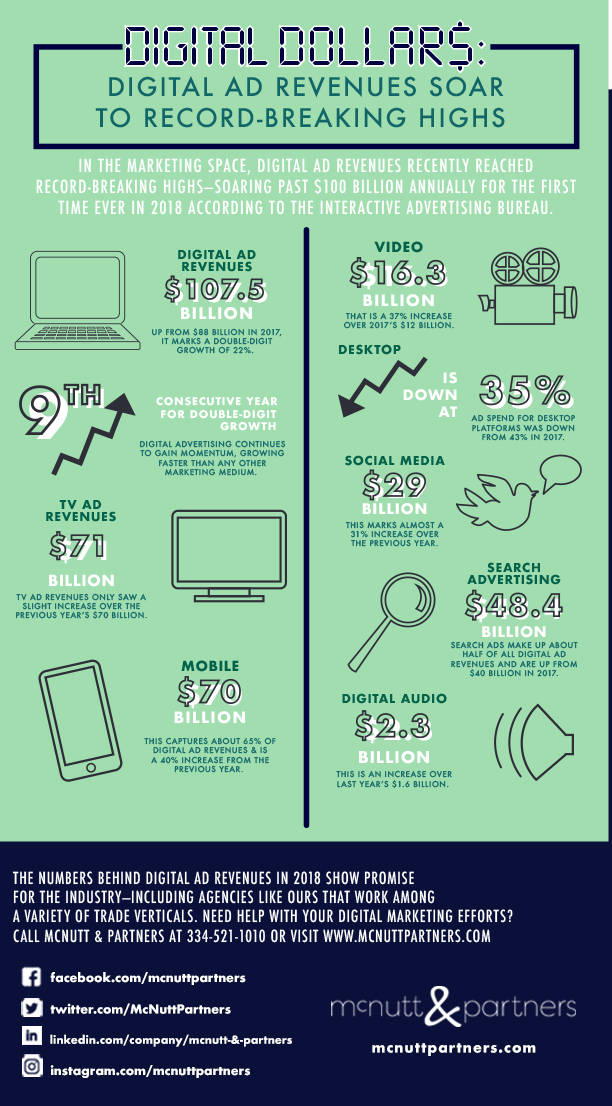 The breakdown
Digital ad revenues reached $107.5 billion in 2018. It's the first time ever that digital ad revenues have surpassed $100 billion in any given year. Up from $88 billion in 2017, it marks a double-digit growth of 22 percent.
It was the ninth consecutive year for double-digit growth. Digital advertising continues to gain momentum, growing faster than any other marketing medium.
TV ad revenues were $71 billion in 2018. In the same time period that digital ad revenues broke $100 billion, TV ad revenues only saw a slight increase over the previous year's $70 billion.
Mobile had $70 billion in ad spend in 2018. This captures about 65 percent of digital ad revenues and is a 40 percent increase from the previous year. Another fun fact: Mobile surpassed desktop in 2016 for the first time since the IAB started tracking these numbers.
Video comprised $16.3 billion in 2018 ad spend. That signifies a 37 percent increase over 2017's $12 billion.
Desktop is down at 35 percent of revenues. As mobile thrives, desktop is diminishing. Ad spend for desktop platforms was down from 43 percent in 2017.
Social media measured $29 billion. This marks almost a 31 percent increase over the previous year. Story formats, available on platforms like Instagram, Facebook and Snapchat, could have helped fuel the bump, the IAB speculates.
Search advertising is still booming. Search ads make up about half of all digital ad revenues. The numbers rang in at $48.4 billion in 2018 up from $40 billion in 2017.
Digital audio is on the rise. With podcasts being popular and radio streaming services flourishing, digital audio is up 23 percent to $2.3 billion over last year's $1.6 billion. Last year was the first time digital audio was included in the report after it topped $1 billion for the first time.
Obstacles for marketers
Though the bread and butter of marketers is tracking consumers' digital behaviors, there's a fine line between doing so and respecting consumer privacy. In 2017, Apple launched its first iteration of Intelligent Tracking Prevention for Apple Safari, which essentially inhibits the ability for tracking cookies to operate in the open web. Apple launched a second iteration in 2018. According to the Wall Street Journal, Google announced that it would be putting out its own set of tools to limit the way that tracking cookies are being used.
The takeaway? Marketers are facing obstacles as the landscape changes, but some factors are also swinging in their favor.
Technology that could help
The IAB bases which digital categories it includes in its report on whether or not a category represents at least a 2 percent minimum share of digital ad revenues. Digital-out-of-home advertising (think digital billboards/displays) is one of those categories that did not make the cut this year, but one that is poised to do so. Standard out-of-home advertising was up 10 percent according to the report, with much thanks to digital opportunities. According to Adweek, more than 50 percent of all out-of-home marketing buys are now digital.
In addition, the increasing sophistication of technology like AI sets brands up for success in a treasure trove of ways, including its ability to collect data and deliver ads using more relevant, personalized methods. Looking forward, experts expect 5G technology to further add to marketers' abilities in promoting speed and efficiency in placing advertisements.
About the report
The IAB initiated its "IAB internet advertising revenue report" in 1996. Conducted by PricewaterhouseCoopers LLP, the report includes data reported directly to PwC from companies selling internet advertising as well as publicly available records. Read the full 2018 IAB internet advertising revenue report here.
Summary
The numbers behind digital ad revenues in 2018 show promise for the industry—including agencies like ours that work among a variety of trade verticals. Need help with your digital marketing efforts? Call McNutt & Partners at 334-521-1010 or visit www.mcnuttpartners.com